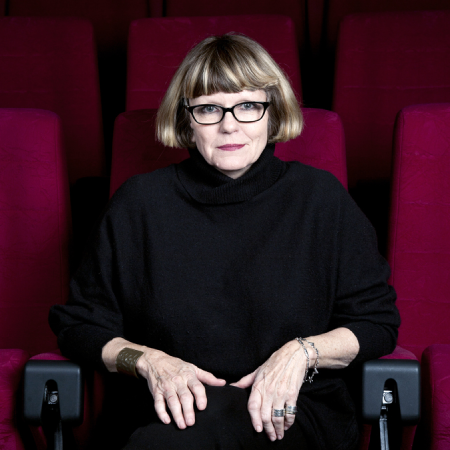 Lois Weaver
---
Lois Weaver is an artist, activist and Professor of Contemporary Performance at Queen Mary University of London. Lois is a 2014 Guggenheim Fellow and a Wellcome Trust Engaging Science Fellow for 2016-18.
Lois was co-founder of Spiderwoman Theatrer, WOW and Artistic Director of Gay Sweatshop in London. Lois was named a Senior Fellow by the Hemispheric Institute of Performance and Politics in 2014. She has been a writer, director and performer with Peggy Shaw and Split Britches since 1980.
Lois was born in the Blue Ridge Mountains of Virginia in 1949. She completed a BA in Theatre Studies at Radford University, and moved to New York in 1975 where she began working with Muriel Miguel, which led to the founding of Spiderwoman Theatre. While touring Europe with Spiderwoman, Lois met Peggy Shaw who was working with Hot Peaches. Shortly thereafter, Peggy joined Spiderwoman where Lois and Peggy began to collaborate. In 1980 Lois and Peggy, along with Deb Margolin, created the performance Split Britches: The True Story, which led to the founding of their own company, Split Britches.
Lois received a NYFA Fellowship and an OBIE for her ensemble performance in Belle Reprieve in 1990. As part of Staging Human Rights, Lois taught in women's prisons in Brazil and the UK and in 2006 became Artistic Director for Performing Rights, an international festival on the themes of performance and human rights held in London, Vienna and Glasgow. She was principal artist on Democratising Technology, a research project that uses performance techniques to initiate conversations on technology and participatory design.
Her experiments in performance as a means of public engagement Public Address Systems include the Long Table, Porch Sitting, the Library of Performing Rights, the FeMUSEm and her facilitating persona, Tammy WhyNot. Tammy has recently collaborated with elders across the world, including during a week-long residency in Zagreb, and throughout the ongoing tour of What Tammy Needs To Know About Getting Old And Having Sex in New York, Poland, and across the UK. Spring 2016 also saw Lois/Tammy working with residents of a London senior care home as part of a Magic Me Artist Residency.
Split Britches' collection of scripts, Split Britches Feminist Performance/Lesbian Practice, edited by Sue Ellen Case, won the 1997 Lambda Literary Award for Drama.
Lois's performance practice and history has been documented and illustrated in The Only Way Home Is Through The Show: Performance Works of Lois Weaver, eds. Lois Weaver and Jen Harvie, published in 2015 by Intellect and the Live Art Development Agency.