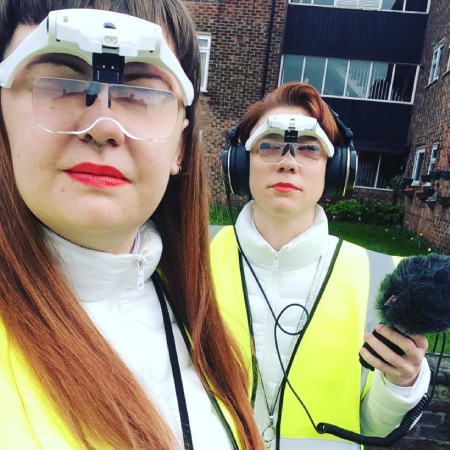 Rosana Cade & Siân Baxter
---
Rosana Cade and Siân Baxter are Glasgow based performance makers who share a love of absurd comedy, alliteration, and experimental art. They are excited to be at the beginning of their collaborative practice, bringing together Siân's dj, comedy, and production skills with Rosana's experience in socially engaged live art.
Rosana regularly tours across Europe with her acclaimed participatory performance Walking:Holding, and is involved in collaborations with other artists such as Ivor MacAskill, Nic Green, and Laura Bradshaw. She is also co-founder of Buzzcut Festival in Glasgow.
Siân is currently supporting artists Nick Cassenbaum, Amy Rosa, Rosana Cade, Lucy Hutson and also Take Me Somewhere Festival in Glasgow, as well as developing her comedy practice.