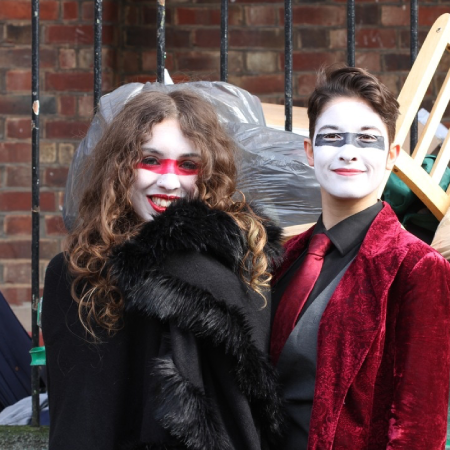 Sh!t Theatre
---
As Sh!t Theatre we have been writing, performing and signing on together since May 2010, and have shown original work at international and national events/organisations such as: New York City's HOT! Festival, Dixon Place; Colchester Arts Centre; Duckie @ The Barbican; Duckie @ The RVT; Resonance 104.4 FM;UK Uncut; The Gate Theatre; Richmix; Shambala Festival; The Edinburgh Fringe Festival; Festival of Dangerous Ideas; Emergency Festival Manchester; Lost in Cabaret Festival;  the Basement Brighton; Camden People's Theatre; The Point, Eastleigh; The Arches, Glasgow, Summerhall Edinburgh and the Junction Cambridge.  From 2011-12 we were artists-in-residence at the Visual Collective, Vyner Street, London. 
We were Escalator East supported artists 2012-14 and our second full-length show 'JSA (Job Seekers Anonymous) 2013' was supported by the Arts Council for England, the Basement Brighton and Escalator East to Edinburgh 2013. Our 2014 show Guinea Pigs on Trial was supported by Escalator East to Edinburgh 2014, The Arts Council for England, The Expansionists, University of Chichester and the Yard Theatre.
Our work is informed by our trained disciplines of music, performance art and long-form improvisation. We consider performing the 'sh!t' to be theatrically political and use different theatrical and artistic devises (such as dance, though we are not trained dancers). Our embracing of the 'sh!t' challenges preconceptions that, on stage, only virtuosity has traditionally been given a voice. Additionally, we work with an aesthetic which comprises of found materials; the intentionally 'sh!t' DIY appearance and donning of grotesque clown make-up challenges us and the audience to find the common ground beyond the alienating exterior. Our work consists of political satire; the personal; comedy; music; physical theatre, documentary practice and frequently explores the meta, in that we examine our theatrical practice on stage.
Our work celebrates 'live-ness' – lines are learnt and then un-learnt, sections are left to be devised on stage, pieces re-written in response to the specific audience. We love improvisation, cracks in the facepaint, failure and being SH!T.
We were winners of the Total Theatre Award 2013 for emerging artist/ company and an Arches Brick Award 2013, and were shortlisted for the 2014 Amnesty International Freedom of Expression Award. Our Edinburgh Fringe 2015 show won a Three Weeks Editors Choice Award and was listed as one of the Daily Telegraph's 'Five Best Plays to see in Edinburgh'. Our Edinburgh 2016 show Letters to Windsor House won a Scotsman Fringe First and was shortlisted for the Total Theatre Award for 'innovation and experimentation in form' 2016 and the Carol Tambor Prize. DollyWould was awarded the Brighton Fringe Touring Award2018 in association with the Pebble Trust, was a Guardian 'top 10 shows to see at the Edinburgh Fringe' & one of the Evening Standard's '20 shows to see in 2018′ and was nominated for an Off West End 'TBC' Award ​in 2019. She Bangs the Drums – which we created with Contact Young Company – was nominated for 'best performance' at the Manchester Culture Awards & was also shortlisted for 'Theatre Production of the Year' at the Northern Soul Awards 2018.