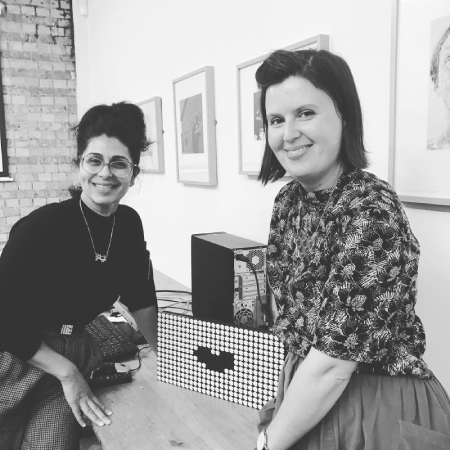 Yara Elsherbini & Davina Drummond
---
At the heart of both of our practices (Davina Drummond and myself) is site, context and audience. Our work does not exist without participation, without a public, viewing it, taking part in it. We make works that relate to the context; be it time or the political context, and always think about the work in relation to the site; a public space, a gallery, a festival etc. Accessibility is key: for example by using formats within contemporary popular culture; tours, jokes, gospel choirs, teaching syllabus, quizzes, mini golf, games.
Currently Davina and I are working together to realise a number of art projects, and one is our most ambitious public art work to date Arrivals + Departures, working with Artsadmin as our producers. Without Walls have been granted an R&D award for the project. 
We think about how to engage a general audience, exploring works which touches on the human condition, in different ways, be it geo politics or love, to knowledge or mental health. We root our works in the everyday, using a lightness of touch and humour to make works that are both poetic and political. We believe in using simple devices to produce powerful artworks. We enjoy working together because we have different ways of engaging with audiences and bring different things from the table. While our modes of making are different, ideas are at the heart of all our work. Davina's practice is rooted in participation – working with large organisations, while my practice is rooted in making works which necessitate active participation by the viewer. Both of us make relational art works; our works don't exist without active participation, so we naturally came together to work on projects.
In 2016 we were joint British Council Fellows at Portland State University exploring Motherhood, and sustaining an arts practice. We began collaborating over the last 7 years, when we both became mothers, and felt a sense of urgency to address some of the issues we ourselves were going through, as artists and mothers, with limited time but still the same ambition. Our work was part of the article Contemporary Mamactivist Artists: A Forum on Maternal Activist Art for the Studies in the Maternal Special Issue on The Everyday Maternal Practice: Activist Structures in Creative Work, Summer written by Natalie Loveless, published in 2016. In 2016 we were commissioned to create Quiz: Which Vacuum Cleaner suits your personality type? for Idle Women, as part of "The Grand Domestic Revolution" .